ancestry of Marinus Anthony van der Sluijs)
last updated July 2004
go to my homepage or send me an e-mail with your comments and additions
go back to generation 11 (born circa 1630 to 1660)
proceed to generation 13 (born circa 1570 to 1600)
generation 12 ('stamovergrootouders'):
2048. Cornelis Adamse (Boot) (van Drimmelen) [Adams], born circa 1580 Oud-Drimmelen [according to R. Boot circa 1585, 1590, but prior to 1590], salmon fisher 1616-1654, leased in 1616, 1617, 1619-1624, 1626-1639, 1641-1646, 1648, 1650-1654, tutor of the three children of Bastiaan Cornelisse, sold as such 21-6-1619 1/5 'bunder' pasture to Cornelis Bastiaansen Casteleyn [22-6?], mentioned 14-4-1629 as tutor over these children, sold 26-11-1621 half a 'bunder' sowing land in the Vierendeel of Breda to Adriaan Adriaanse Luckwell, mentioned in 1622 as a sworn one of Drimmelen and the Emiliapolder, 30-9-1623 brought to court as some fishermen of Drimmelen conspired against him, borders 5-6-1627 to the South of Catharine Wachman at Stabroek in the land that formerly belonged to Gerrit Cornelisse, 25-2-1628 Dingena Huibertse sold land to Bastiaan Adriaans, for half a part on behalf of the orphans of Cornelis Adamse, appeared 17-10-1631 at Geertruidenberg as the maternal uncle of the children of Lijsken Adams to decide about the children of her first marriage, bordered 28-3-1634 to the North of Quirijn Adriaan Quirijns, 30-3-1637 his orphans possessed land in the Princenpolder, 2-10-1638 the land of these children bordered to other land in De Worp, leased land at the Steelhovensedijk in 1639 and 1640, 16-7-1654 Adriaan Adams and Boudewijn Anthonis are appointed as tutors over his orphans, Adriaan Adams is mentioned as such 22-1-1655, 12-2-1699 his heirs sold his land in the Princenpolder to Jacob and Gijsbrecht Cornelis Neelneef, of which we have a letter dated 2-3-1699 confirming that the late Cornelis Adams used to be a tenant-in-chief of the court for this piece of land, gives it into inheritance to his daughter Pleuntje Cornelis and is asked to be sold to the aforementioned persons by Pleuntje, died between 28-3-1634 and 4-7-1648 Drimmelen, married (1) prior to 1615 Adriaantje (Ariaense) Lukwel [Adriana, Adriaentgen, Adriaantgen; Adriaens, Adriaanse, Adriaensdr., Adriaansdr, Adriaans; Luckwel, Luckwell], died before 26-11-1621 Oud-Drimmelen [prior to 1619], daughter of Adriaan Pietersz. Luckwell [Adriaen; Peterszn], fisherman at Drimmelen and farmer at De Made, the children out of which marriage were still under age 26-11-1621, married (2) after 14-4-1629?:
2049. Maaijke Janse [Maijken, Mayken, Maeijken, Maria; Jansdr., Jans], died prior to 16-7-1654
Issue from this marriage, (1) Adam, see above, (2) Jan Cornelisse Adams, born circa 1635 Oud-Drimmelen, salmon fisher, died 31-10-1696 Oud-Drimmelen, married Seijke Willems de Greef, buried 29-3-1723 Drimmelen, (3) Pleuntje Cornelisse, died 5-9-1710 Oud-Drimmelen, married Jacob Abrahams, died prior to 6-3-1699, (4) Catelijne Cornelisse, died 11-9-1700 Drimmelen, married 21-11-1664 Geertruidenberg, Pieter Boudewijns van Beijeren, fisherman, died after 12-2-1699
2052. Cornelis Willemse de Greef, born 1574
2053. Bastiaantje Pieterse
2064. = 2048
2065. = 2049
2068. Adriaan Klaasse (de Bosser) [Arien, Adriaen, Ariaen; Cleyszn., Claeszn., Cleijszn, Cleijsz; Bosser, Bosscher], born circa 1560, fisherman ('visser'), district councillor of Drimmelen 1626-1629, died prior to 27-11-1638, married (2) prior to 13-10-1607, Lenaartje Cornelisse [Lenaertje, Lenaertken, Leonarda, Lenaert; Cornelisdr.], born circa 1560, died between 13-10-1607 and 4-4-1658, married (1):
2069. Maaike Cornelisse[1]
2070. Leendert
2076. Willem Pieterse Hagers, born circa 1595, married:
2077. Peterke Willem Corstiaans
2078. Adriaan Adriaan Klaasse de Jonge, born circa 1595, married:
2079. Klaasje Hendriks, born circa 1595
2144. Huig (Driendijk) [Huigen]
2146. Pieter
2152. Leendert (Krepelman)
2154. Jan
2156. Willem (Goemaer)
2158. Willem (de Jonge)
2164. Willem Jacobse Brederode [Jacobsz.], christened 14-7-1613, died after 1660, married 26-10-1642 Dirksland:
2165. Adriaantje Hendrikse Roos, born Herkingen, died after 1676
2166. Aren Joosten van der Stelle, christened 4-6-1617 Dirksland, buried 9-4-1691 Dirksland, married 17-12-1643:
2167. Maatje Leenderts, born Dirksland, died after 1654
2168. Adriaan (Keuvelaer)
2170. Cornelis (Mellenaers)
2172. Cornelis
2174. Rut (Triumphant)
2272. Cornelis Arendse Luijendijk [Arends], born 1613 Vierpolders, Briels Nieuwland, christened 31-3-1622 Vierpolders, Briels Nieuwland, farmer at Vierpolders and later Oude Tonge, moved 1667 to Oude Tonge, buried 26-8- 1680 Nieuwe Tonge, married (2) 14-9-1653 Brielle, Neeltje Willemse, married (3) 28-2-1669 Nieuwe Tonge, married Josina Gerritsd. (Coninck), married (1) 22-4-1642 Brielle:
2273. Bastiaantje Corstiaanse de Deugd [Corstiaans], born Vierpolders, Briels Nieuwland, died prior to 9-1653
2274. Hendrik (Caperman)
2280. Cornelis Arendse van der Slik [Arens], christened 12-8-1629 Middelharnis, died 7-2-1665 Sommelsdijk, married 13-5-1657 Middelharnis:
2281. Sijtje Dirkse van Oostende [Dirks], christened 10-3-1641 Sommelsdijk, buried 18-3-1721 Nieuwe Tonge
2282. Pieter Cornelisse Ruygrock [Cornelisz.], christened 3-10- 1610 Dirksland, died circa 1680, married 12-10-1642 Dirksland:
2283. Kommertje Imanse [Commertje; Iemans], born Dirksland, died prior to 9-1679
2368. Jacob (Mattheus) (Joosten) van der Have [Teeus; Joostz.], born 1596 Sirjansland, sold 10-4-1632 a house to his brother-in-law Claes Willemsz. Clijnke, lent 25-6-1636 350 pound Flemish tegen de penninck veertijen int jaer te rekenen voor een jaer to Lauwrys Reynbrants Verboom of Zierikzee, did 19-7-1647 als 'respectable' ('eersame') quite of thiende van slagerijen en vant gemael als van andere imposten to the secretary of Sirjansland, died 27-4-1649 Sirjansland, a list of the possessions he left behind is in my file, married (2) 1627, Aerjaenke Joose [who remarried 17-10-1650 Sirjansland, Jan Pieter Daemijs], out of which marriage (a) Tannetje, born 1628 Sirjansland, married Leendert Marinusz. Klink, (b) Joost Jacobsz., born 1630 Sirjansland, married Anneke Leendertsdr. Klink, (c) Kornelis, born 1632 Sirjansland, elder in the Dutch Reformed Church Sirjansland from 2-1-1693 to 2-10-1702, (d) Jan, born 1635 Sirjansland, married Adriaentje Jobsdr. Breebers, (e) Krijntje, born 1638 Sirjansland, died after 1710, married Jacob Simonsz. de Grave, (f) Adriaen, born 1642 Sirjansland, married Francijntje Maertensdr. Rotte, married (1) 4-6-1622 Bruinisse:
2369. Maartje Janse van Zierikzee [Maertje Jansdr.], resided 1622 Bruinisse
2370. Marinus van der Lis
2378. Joost Foppen Gorswagter, married 12-6-1630 Oude Tonge:
2379. Jacquemijntje Leenderts
2384. Cornelis Cornelisse Kattestaart [Cornelisz.; Cattestaart], born 14-9-1614 Oude Tonge, skipper ('schipper'), farmer, dyke master, alderman and mayor of the bailiff of Voorne at Oude Tonge, died or buried 18-1-1665 Oude Tonge, married 10-7-1639 Oude Tonge:
2385. Leentje Willemse Braber [Lijntje; Willemsd.], born Ooltgensplaat, died 1687 Oude Tonge
2386. Leendert Lambrechtsz. van den Braak [Van den Braack], born 16-12-1611 Vlaardingen, mason ('metselaar'), died between 1658 and 1671 Sommelsdijk, married 13-11-1636 Sommelsdijk:
2387. Neeltje Dingemansd., born Sommelsdijk, died 4-12-1673 Sommelsdijk
2388. Gerrit Hendrikse Tichelman, born circa 1605 Duisburg, Land van Kleef, leather worker ('leerlooier') and harness maker ('gareelmaker'), secretary and alderman of Sommelsdijk, secretary, alderman and mayor of the bailiff, elder 163-1655, 1673-1675, deacon 1635, 1639-1643 Sommelsdijk, died 1686 Sommelsdijk, married 22-9-1629 Sommelsdijk, Middelharnis:
2389. Maatje Pieterse van der Daff [Pieters], born circa 1610 Sommelsdijk, died Sommelsdijk
2390. Jacob Jacobse Boelhouwer [Jacobsz.], born Abbenbroek, mason ('metselaar') at Oude Tonge, 'kwartiermeester' of the Sint-Joris association ('gilde') at Oude Tonge, married (1) 28-4-1624 Oude Tonge, Leenke Arents Nout, married (2) 25-10-1626 Oude Tonge:
2391. Leentje Leunisse de Jonge, born Oude Tonge, died 1652 Oude Tonge
2432. Raaier [Raeyer]
2436. Pieter Wolferse
2448. Jan (Cornelisse) Berrevoets, born prior to 1615, married (1?) Hendrina NN, married (2):
2449. Maria Adamsdochter van Spijck[2]
2450. Adriaan Janse Struyck [Adriaen], alderman, died 9-11-1669 Oosterhout, married 3-4-1644 Oosterhout:
2451. Heiltje Klaasse Brock [Heyltie, Heijltje; Claesdochter, Claesdr.; Brocq], died 12-11-1674 Oosterhout
2456. = 2432
2460. = 2436
2560. Jan Leendertse (van der Boom) [Leenderts], born circa 1625 presumably Sommelsdijk, resided 1655, 1671 Sommelsdijk, died between 1674 and 1679, married (1) circa 1650 [prior to 3-3-1658], Maartje Claasdr., died after 3-3-1658, married (2) before 1655, Stijntje Gerritsdr., died before 1655, married (4) 7-3-1671 Sommelsdijk, Lijntje Simons [Sijmensdr.], widower and widow of Pieter Dircksz. Bot, resided 1671 Sommelsdijk, died before 19-10-1674, betrothed (5) 19-10-1674 Sommelsdijk, Maatje Frans [Marije], widower and widow, resided 1674, 1679 Sommelsdijk, she betrothed (2) 24-3-1679 Sommelsdijk, Paulus Rocusz., resided 1679 Sommelsdijk, widower of Catlijntjen Japixdr., married (3) 4-5-1655 Nieuwe Tonge, widower and spinster:
2561. Neeltje Klaasse [Neelge; Klaasdr., Claas], resided 1655 Gorinchem, died before 7-3-1671
Issue from this marriage: (1) Leendert, see above, (2) Claas [Claes], christened 30-3-1658 Sommelsdijk, witnesses Isaack Cruijslander, Grietje Claes and Lijsbeth Claes
2562. Cornelis
2688. Pieter Cornelisse Cats [Cornelisz.], farmer in the Oudeland of Goedereede
His children: (1) Jacob, see above, (2) Huyg Pieters Cats, farmer in the Oudeland of Ouddorp, died 1645 Ouddorp, married (1) NN, (2) 1624 Ouddorp, Martijntje Willemsdr. Cole [Koole, Koote?], died 1674 or 1675 Ouddorp, whose children were (a) Adriaantje Cats, born Ouddorp, resided 1664 Ouddorp, died prior to 13-6-1672, married Pieter Jansz. Blok, anabaptist ('doopsgezind'), moved from Oude Tonge to Ouddorp, died between 1659 and 1664, (b) Maatje Cats, died 1661 Goedereede, (c) Pieter, married Lijsbeth Doeland
2690. Hendrik
2692. Cornelis Leendertse Lodder [Leenderts], born circa 1565 Goedereede, purchased tithes in Goedereede 1587, presumably tenant at Goedereede 1597-1603, alderman of Dirksland 1597-1604, witness at a baptism 1616 Nieuwe Tonge, buried 1617 Dirksland, church, married:
2693. Klaasje Willemse [Claesje; Willems], died after 1627
2694. Zacharias Jacobse (Krijger) [Sacharias; Jacobs], born circa 1580, purchased tithes from Dirksland 1609-1639, made up his last will 21-9-1638 Dirksland with his wife, he being ill, married prior to 1609:
2695. Dina Marinusse (de Bock)
2696. Pieter (Melissant)
2698. Cornelis
2700. Cornelis Leendertse Casteleyn [Leendertsz.; Casteleijn], burgomaster of Goedereede 1618, alderman of Goedereede 1605, moved from Goedereede to Dirksland, alderman of Dirksland 1630, farmer, died after 1638
Issue from his marriage, (1) Aren, uit Ouddorp, married (?) Aagje Thijsse Heerschap [Aegje[, (2) Maria, christened 1-10-1633 Dirksland, (3) Neeltje, christened 1-10-1633 Dirksland, all christened as bejaarde personen
2702. Maarten Thijsse [Thijsz.]
2703. Arendje Gerritse Touw [Arentje; Gerrits]
2704. Leendert Brooshoofd [Brooshooft]
2706. Adriaan Leendertse [Adriaen; Leendertsz.], married (1) Mayken Gijsberts, married (2) 4-1615 Dirksland:
2707. Leentje Willemse Ruijghrok [Willems; Ruygrock, Ruijchrok], born Dirksland, died after 1644 Dirksland, married (1) 18-2-1601 [18-3?] Dirksland, Cornelis Jansz. 't Hoof
2712. Marinus Gijsbrechts (van der Daff) [Gijsbrechtse], born 1553 Sommelsdijk, farmer, alderman of Sommelsdijk 1597-1599 and 1605-1607, 'borg' for the leaser of the taxation ('verponding') on wines and beers 1597 and 1600-1602, died 16-6-1616 Sommelsdijk [between 1606 and 1616]
2714. Abraham Cornelisse van den Houten [Cornelisz.], sexton at Sommelsdijk 1628-1629, deacon at Sommelsdijk 1622-1624, 1626-1628, 1632-1634, 1638-1640, elder at Sommelsdijk 1635-1637, resided Sommelsdijk, Ring, died 1642 Sommelsdijk, married (2) 8-2-1633 Sommelsdijk, Sara Hendricx, widow of Abraham Isaacs, betrothed (3) 27-3-1638 Hoorn, married Sommelsdijk, Trijn Jansdr., widow, married (4) 29-7-1642 Sommelsdijk, Jacomijntje Janse de Walsche, widow, married (1):
2715. Thijsje Paulusse [Tijsje; Pauwelsdr.], died 1630 Sommelsdijk
2716. Steven de Swarte, born 1560s Middelburg
2717. Sara Dupré, born Diest in Belgian Brabant[3]
2720. Pieter Janse Emaus [Jansz.], married circa 1630:
2721. Neeltje Jacobse Swardam [Jacobs, Jacobsd.]
2722. Meindert (Klaasse) Aleman [Meijndert, Meynard; Claesz.; Alemans], dune lord ('duinmeier') in Heemstede 1624, and in the Oostduinen in Ouddorp after 1624 until 1663, owned a farmstead in West-Nieuwland, alderman of the Oude Nieuwland 1651, born circa 1582 Heemstede, moved to the 'hospital' in Noordwijk 1669, where he died, died between 1669 and 29-5-1670 Noordwijk, married (1) circa 1610, Neeltje Benjaminsd., died prior to 1629, daughter of Benjamin Dirckszoon, married (3) 4-11-1668 Goedereede, Geertruid Cornelisd., married (2) circa 1630:
2723. Leuntje Dimmense [Leentje; Dimmensdr.], died prior to 1668
2724. Eduard Sandiforth [Edward; Sandifort], born 1575? England, primary school teacher ('onderwijzer aan de Lagere School') and physician ('chirurgijn'), reader ('voorlezer') and first-singer ('voorzinger') in the church, died 1652 Ouddorp, married (1) 1616 Ouddorp, Geertruid Krijns, married (2) 1626 Ouddorp:
2725. Pieternella Gerrits
Issue from this marriage, (1) Leendert Sandifort, born 1629 Ouddorp, physician ('chirurgijn') in Dordrecht, married 19-9-1649 Ouddorp, Jacomina Bacx, (2) Gerrit, see above, (3) Isabella Sandifort, born 6-2-1639 Ouddorp, died 16-2-1708 Goedereede, married 23-6-1657, Cornelis Arens Colen, alderman and burgomaster of Goedereede, (4) Johannes Eduards Sandifort, born 1643? Ouddorp, baker ('bakker') in Dordrecht, moved 1663 from Goedereede to Dordrecht, later from Dordrecht to Goedereede, died 6-12-1708 Goedereede, married 22-7-1663 Dordrecht, Sophia Bacx
2726. Jan Jacobusse Swartdam [Jacobusz.], secretary of West-Voorne, farmer in Ouddorp, married circa 1625:
2727. Grietje Thijsse Karre or Heerschap
2728. Adriaan van Pernambucq [Adriaen; Van Farnabok], married circa 1610:[4]
2730. Jan (de Braal)
2736. Job Arense Bakker [Arens], died between 5-1671 and 20-12-1674, married:
2737. Jannetje Mees, died 11-1671
2738. Joost Gijsbertse Vogelaar
2739. Ariaantje Ariese [Ariaentien; Ariens]
2740. Mees Krijnse Kievit [Crijns], died circa 1672, married:
2741. Aagje Cornelisse Kievit [Aechie; Cornelisdr.], died after 23-9-1664
2742. Krijn Davidse de Zutter [Davids], born 28-11-1610 Goedereede, died 2-1-1687 Goedereede, married 1-1-1639 Goedereede:
2743. Jacomijntje Cornelisse Boogertman [Cornelisdr.], born Goedereede, died 1673 Goedereede
2744. Marinus Kommerse Bakker [Marijnis; Commerse], died after 15-7-1630 Ouddorp
2745. Klaartje Willemse [Claartje; Willemsdr.], died after 5-1-1655 Ouddorp
Issue from this marriage, (1) Leendert, see above, (2) Neeltje Marinusdr. Bakker, died 1667 Goedereede
2746. Harrent Janse de Kramer [Jansz.; de Cramer, Cramer], farmer, died 1651 Ouddorp
2747. Stijntje Leendertse Haene, died prior to 27-3-1628 Ouddorp
2748. Job Cornelisse Houteschee, died between 14-2-1650 and 2-3-1652 Ouddorp, married:
2749. Maartje Janse Swardam [Jans]
2750. Leendert Jacobse van der Wende [Jacobs], died 1655 Ouddorp, married:
2751. Jacomijntje Maartense Tanis [Maartens], died prior to 20-7-1661 Ouddorp
2752. Klaas Cornelisse Komtebedde [Claes; Cornelisz.], farmer, died after 1624
His children were (1) Niesje, married Harrent Dimmense Cramer, (2) Willem, (3) Cornelis, (4) Hugo, see above
2754. Job Cornelisse Dekker [Cornelisz.]
2756. Hendrik Janse Moyses [Hendrick; Jansz.], farmer in the West-Nieuwland, died prior to 1640, married prior to 1625:
2757. Gooltje Janse [Jans], died prior to 27-9-1656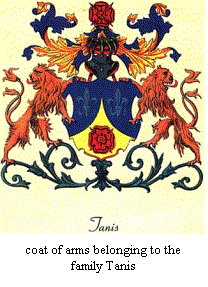 Ouddorp
2758. Ewoud Maartense Tanis [Eeuwoud; Maartensz.], born Ouddorp, farmer, died between 1657 and 24-3-1659 West-Nieuwland, near Ouddorp, married (2) circa 1641, Adriaantje Commerse, born 1617 Ouddorp, died prior to 6-6-1673 Ouddorp, daughter of Commer Jansz., farmer, and Baaltje Krijnsdr. Kievit, who remarried 4-7-1660 Ouddorp, Cornelis Jansz. Haymeetman, born Ouddorp, died prior to 26-1-1676, married circa 1630:
2759. Marijtje Cornelisse Lauwe [Cornelis], died prior to 26-3-1639 Ouddorp, widow, married (1) circa 1625 Ouddorp, Tonis Abrahams, died prior to 14-4-1630 Ouddorp
Issue from this marriage, (1) Suzanna Eeuwouds Tanis, christened 14-8-1639 Ouddorp, (2) Grietje Tanis, born prior to 1639, christened 14-8-1639 Ouddorp, (3) Maritje, see above, (4) Cornelis Ewoutsz. Tanis, born prior to 1639, christened 14-8-1639 Ouddorp
3008. Cornelis Pieterse Noorman [Pieters], born Ooltgensplaat, cartwright ('wagenmaker'), resided 1609 Ooltgensplaat, 1618 Dirksland, deacon, sexton, alderman of Dirksland, died Lent 1627 Dirksland, married (1) 12-7-1609 Dirksland, bachelor and spinster, Maeijke Crijns [Maeyken, Maayke; Crijnsdr.], resided 1609 Dirksland, died prior to 23-9-1618, out of which marriage (a) Crijn, (b) Jan, (c) Arendje, married (?), out of which marriage (a) Cornelis Cornelis, resided 1649 Dirksland, married 25-3-1649 Dirksland, bachelor and spinster, Dingetje Jans from Dirksland, married (2) 23-9-1618 Dirksland, widower and spinster:
3009. Maartje Leendertse (Kempe) [Maertjen, Maertgen, non Neeltje; Leenaerts, Leenderts.], born Dirksland, resided 1618 Dirksland, died after 1676, married (2) 22-2-1635 Dirksland, Teunis Arends Mosselman
3010. Michiel (Donker)
3072. Dirck (Cornelisse) (de Heer) [Cornelisz., Cornelis, Cornelissen], born circa 1596 Hardinxveld, resided 22-9-1625 Hardinxveld, his widow later resided at Werkendam, died between 22-9-1625 and 10-10-1627 [non 1657], married 22-9-1625 Werkendam:
3073. Neeltje Willemsdr. [Willems], born circa 1600, died prior to 26-5-1654 Werkendam
3074. Wouter Thonisz.
3075. Martijntje Pietersdr.
3076. Arie Heijman
3078. Huijbert
3136. Arie Dirkse 't Greyn [Aeryen, Ary; Dirxe, Dirks; 't Greijn, Greijn], born Heinenoord, bought land in 1645, 1648 'armmeester' at Mijnsheerenland, resided 1639 Heinenoord, later De Hitsert, died prior to 11-5-1687, married 8-5-1639 [1638?] Heinenoord, Mijnsheerenland, bachelor and widow:
3137. Janneke Willemse [Willems], widow of Bastiaan Pleunen, resided 1639 Mijnsheerenland (Heinenoord)
3138. Cornelis (Loosje)
3168. Jan Groeneweg
3170. Leendert
3176. Hendrik Willemse Hoogwerf [Hendrick; Willems; Hoogewerff, Hooghwerff], born circa 1610, christened 16-5-1610 Poortugaal, farmer at Poortugaal, presumably fisherman, died 5-1653, buried 5-1653 Poortugaal, 43 years old, married 14-6-1637 Poortugaal, 5-7-1637 Strijen:
3177. Beatrix Andriesdr. van der Waal [Andries; Verwael, Van der Wael, Van der Weel, Verweel], resided 1637 Strijen, buried 15-8-1698 Poortugaal
3178. Jacob Leendertsz. Welhouck alias Van der Laen [Leenderts], christened 16-10-1616 Poortugaal, farmer under Hoogvliet, alderman of Hoogvliet 1644, sheriff of Hoogvliet 1645, dyke master of Hoogvliet 1660 and 1670, died 14-3-1681, buried 4-4-1681 Poortugaal, church, with epitaph Hier leit begraven Jacob Leendertsz. van der Laen in leven geweest dijkgraaf van Lange en Bakkersoord, is gestorven den 14 maert in het jaar onzes Heeren 1681 oud zijnde 64 jaerenen 9 maanden,[5] married circa 1640:
3179. Trijntje Bastiaensdr. Drogendijck [Trinteke; Droegendijck], christened 15-3-1622 Poortugaal, died 23-3-1669, buried 28-3-1669 Poortugaal, church, with a tombstone with epitaph Hier leyt begraven Trinteke Droegendijck d'huysvrouw van Jacob Leenderts van der Laen, dijckgraef van Lange ende Backersoort sterft den 23 maert ae 1669 oudt 47 jaer en 8 dagen[6]
3180. Klaas Prins
3196. Jan Jansz. Comans, married:
3197. Neeltje Leenderts Welhoek
3264. Japhet Cornelisse Kabbedijk [Cornelisz.; Cappedijck], born Dordrecht, resided 1657 Dordrecht, 'buiten de Spuijpoort', moved 9-7-1660 with attestation from Prinsland to Numansdorp, married 2/30-9-1657 Numanspolder, spinster:
3265. Elisabeth Cornelisse Boenders [Elysabeth], resided 1657 Groot-Cromstrijen
3266. Willem Foppe Swanevelt, 'biersteker', resided 1661 Cromstrijen, died before 1686
3267. Lijnje Thonisse [Thonis], died before 1690
3272. Ingen Jacobs Vermaas [Van der Maese], christened 15-11-1614 Maasdam, 'armmeester' of Maasdam 9-5-1655 to 26-3-1656, deacon 1654, resided 1655 's-Gravendeel, 1664 't Gat under 's-Gravendeel, died between 25-3-1660 and 28-4-1664, married:
3273. Maria (Hijmense) Kapitein [Marijgje; Heijmens; Capiteijn], christened 16-2- 1631 Maasdam, buried 15-4-1701 's-Gravendeel, married (2) 4-7-1667 Maasdam, Joost Jansz. de Pe, widower of Annigje Pieters Rijerkerk
Issue from this marriage, (1) Heyman, see above, (2) Jacob, (3) Gelf
3274. Maarten Willemse [Maerten; Willems], resided on the Claeswaelschendijck under Cromstrijen
3275. Grietje Klaasse [Claasdr.]
3280. Doen (van der Waal)
3284. Leendert Janse Kuiper [Cuyper]
3286. Arie (Visser Hoogewerf)
3288. Doen (de Jong)
3290. Paulus
3296. Jan Janse (van Rij) [Jansz.], christened circa 1615
3298. Dirk
3312. Jan Gerrits Barendrecht, christened 7-3-1627 Barendrecht, married 28-11-1649 Hekelingen:
3313. Neeltje Thys, christened 8-3-1623 Spijkenisse
3360.? Adriaan van Sint-Maartensdijk [Adriaen, Arien; Van Sintemertensdijck], born circa 1590/1600, resided 1636 Woudrichem ('woonende opt gadt buyten der Stede Worchum')[7]
3362. Willem (van Dalen)
3456. Anthonis Pieterse (Bootser) Kranendonk [Pietersz.; (Cranen)donck alias Bootser], born circa 1567 IJsselmonde, died after 29-7-1641 West-IJsselmonde, married 22-4-1594 / 8-5-1594 Ridderkerk:
3457. Soetje Simonsdr., born circa 1571 Ridderkerk
Issue from this marriage: (1) Sijmon, christened 13-12-1598 Ridderkerk, (2) Pieter, see above, (3) Janneken, christened 27-4-1603 Ridderkerk, (4) Marijtgen, christened 30-7-1606 Ridderkerk, died prior to 10-3-1646 Oost-IJsselmonde, married 29-5-1642 Ridderkerk, Teunis Willemsz. Dicke, son of Willem Huijgen and Ariaantje Arij Maertensdr., (5) Geeryt, christened 30-3-1608 Ridderkerk, (6) Adriaentgen, christened 24-1-1610 Ridderkerk, married 4/25-11-1635 IJsselmonde, Gerrit Jacobsz., christened 1-1-1612 Ridderkerk, son of Jacob Gerritsz. and Ariaantje Cornelisdr., (7) Neeltje, died prior to 14-10-1649 [prior to 29-1-1640?], married prior to 9-12-1629, Leendert Gerritsz. Mijnlieff, christened 22-8-1602 Ridderkerk, son of Gerrit Ariensz. Mijnlieff and IJckgen Leenderts
3458. Aert
3460. Cornelis Boertje
3462. Arien
3464. Rogier Janse van der Straten [Jansz.], smith ('smid') at Piershil 1603, mentioned from 1603 onwards, died prior to 2-3-1640, married Jannetje Jans Verrij, married:
3465. Ariaantje Cornelisse [Arijaentge; Cornelis], died after 2-3-1640
3466. Adriaan Jacobse [Adriaen; Jacobsz.], alderman of Piershil
3467. Grietje Cornelisse Smoor [Cornelisdr.]
3468. Jacob (Gillisse) Herweijer [Gillissen], born circa 1578 Nieuw-Beijerland, dyke master of Nieuw- and Zuid-Beijerland 1616 in succession of his father, dyke master of Nieu Suijt en Groot Suijd-Beijerland 1639, inherited the farmstead Zuijdwijck from his father, renovated its residential part 1626 and installed that year number on the wall of the house,[8] was offered an exquisite location 1609 for fl. 28,- a year omme deselve te gebruijcken tot vogelarije ende sekere vogelkooye daarop te stellen, purchased 4-10-1617 4 'morgen' and 60 'roeden' land in Zuid-Beijerland from Johan van Oldenbarneveldt, signing a letter of debt ('schuldbrief'), alderman of Nieuw-Beijerland 1617, 1619, received 1626 24 pounds due to sekere Reijs en teerkosten als anders bij hem gedaan, uijtgegeven ten tijde in den Haege geweest was, om aldaar te solliciteren enige vermindering van het getalle van de gepreste legerwagens, die andersints tot laste te meer van de huijsluiden van Nieuw-Beyerland soude gebleven syn,[9] taxed in Oud-Beijerland 1627: Bruikt 3 jaar 10 morgen in dijckagie van Zuijt Beyerland van weduwe Berckhout en weduwe Gerrit Wouters-Lijffting in 15e en 16e cavel f 36,-- de morgen, represented 19-2-1627 as dijckgraeff the ingeërfden of Groot-Cromstrijen during the reparation after the collapse of the dyke, cleaned 15-10-1630 the 'watering' between his land and that of Lodewijck Pleunen, and similarly in 1633, 1634, 1635, 1636, 1637, 1641 tot door de heul van hem,[10] district councillor of Groot Zuid-Beijerland 1631, dyke master of Groot Zuid-Beijerland 1632-1635, owner or user of 'dijkage' of the new 'polder' Groot Zuid-Beijerland, sold 19-5-1632 in his function as dyke master with Willem Janszoon van der Graaf in his function as treasurer of Zuid-Beijerland 3/5 of the 'zandplaat', circa 14 'morgen' in Groot Zuid-Beijerland, sold 23-11-1632 3 'morgen' and 38 'roeden' in Zuid-Beijerland, purchased 5-1634 with Maerten Bastz. de Recht 9 'morgen' and 100 'roeden' in Groot Zuid-Beijerland and passed obligation ('obligatie') f 5937,--, purchased a house 20-5-1634, leased 12-1-1635 42 morgen lants in Nijenbijerland, received 9-6-1637 as land leaser procuration from Sweder van de Boetselaar, was 16-2-1639 testamentary tutor over the children of the late Maerten Janszoon and Cleysgen Aryens, together with their son Jan Maertenszoon van der Werff and sold as such pieces of land in Oud-Piershil, had 26-4-1639 procuration from his brother-in-law ('zwager') Willem Janse van Dijck, dyke master of Oud-Piershil and sold as such, was 19-4-1640 indebted for 1600 guilders due to purchase of 8 'morgen' and 456 'roeden' land in the 8th plot ('kavel') of Groot Zuid-Beijerland in the end of 1631, appeared 11-6-1641 for notary Schoormans in Dordrecht out omtrent 63 jaar, died 11-8-1641 Nieuw-Beijerland, more than 62 years old, buried in the church in Nieuw-Beijerland with the following epitaph: hier leyt begraven Jacob Gillisz. Herweyer dyckgraaf van Nyen Beyerlant ende Groot Suyt Beyerlant en is overleden den 11 augusti 1641 out synde 62 jaaren … maanden … dagen,married circa 1604 Nieuw-Beijerland:
3469. Neeltje Janse van der Meer [Neeltgen; Jans], born circa 1584, resided 1655 Zuijdwijck, in Zuidzijde, received 1638 from the 'Heilige Geest armen' in Mijnsheerenland f 2-9 for two skirts ('hemden'), died circa 1674 Nieuw-Beijerland
Issue from this marriage, (1) Jan, see above, (2) Evert
3470. Arie Bastiaanse de Regt [Arien; Bastiaans; De Recht]
3471. Lijntje Janse [Lijntgien; Jansdochter]
3474. Dirk
3476. Cornelis (Groen)
3478. Jan
3480. Jan Klaasse van der Mast [Claesz.], resided Blaak, Heinenoord, died 12-4-1611 Heinenoord, married circa 1602:
3481. Marijke Rochusse [Martige; Rochusdr.], born circa 1572, betrothed (2) 19-10-1614 Heinenoord, Pieter Aertsen
3482. Cornelis Cornelisse Duijser [Cornelis]
3483 Maartje Leendertse Grauwert [Maertge; Lenerts]
3552. Jan Cornelisz. van 't Hof, farmer, district councillor of Nieuw-Beijerland 1658-1672, resided Hekelingen, married in front of the municipality 16-3-1636 Oud-Beijerland:
3553. Hester Rogiers van der Straten, died prior to 17-9-1660 Piershil, married (1) 1626, Abraham Arens Stelboer
3554. Arij Cornelisz. van Putten, born Hekelingen, salesman at Middelharnis, sworn one of Middelharnis, district councillor of Middelharnis, district councillor of Melissant 1665-1669, died 9-1677, buried Middelharnis, church, married (1) Neeltje Cornelis, married (2) 4-10-1637 Middelharnis:
3555. Jannetje Jans Cattestaert, died 1666 Middelharnis
3556. Frank Pieterse (Kuiper) [Franck; Pieters, Pietersz.], resided 1646 Zuidland, member 14-4-1641 Zuidland, died between 1658 and 1705, married 4/18-3-1646 Zuidland:
3557. Sijtje Janse (Verburg) [Sijtge, Citie; Jans], resided 1646 Simonshaven, witness at a baptism 1646 Zuidland, and 1705 Spijkenisse, death reported 26-4-1706 Spijkenisse, buried pro deo, married (2) Hendrik Janse Doesburgh [Jans; Doesburg], died after 1705
Issue from this marriage, (1) Neelken, christened 1647 Zuidland, (2) Jaepie, christened 17-7-1650 Zuidland, (3) Pieter, see above, (4) Neeltie, christened 28-4-1658 Zuidland, (5) Jan, christened 9-4-1662 Simonshaven
3558. Arie Hermanse (de Bruin) (Beuckelman) [Aren; Harmens, Harmensz., Hermansz.; De Bruijn], christened 7-10-1629 Geervliet, witness Andries Andriesz. Coesijn, moved with attestation from Abbenbroek and Geervliet, resided 1661 Geervliet, died between 1672 and 1675, married 23-2-1661 Zuidland:
3559. Korsje Janse (Touw) [Corsje; Jansz., Jans], born Vlaardingen, resided 1661 Geervliet, 1674 as widow with two children outside Geervliet, holding three cows and some sheep along the dyke: Corsje jans Touw weduwe met 2 kinderen geneert sich met een koetje of drie, weijnigh schapen aen de dijck te melken,[11] buried 20-12-1702 Geervliet, married (2) 19-5-1675 Geervliet, Claas Gerritsz. [Gerritse], resided Geervliet, buried 30-12-1704 Geervliet
Issue from this marriage, (1) Jan Arentsz. Beukelman, born circa 1661, farmer on the Oudelandsedijk, died 7-2-1720 Abbenbroek, married (a) Lena Leendertsdr. Plooster, buried 18-1-1700 Abbenbroek, daughter of Leendert Cornelis Plooster and Leentje Gillis, betrothed (b) 14-10-1702 Abbenbroek, impost 3 guilders, Lijsbeth Cornelisdr. Block, christened 3-9-1673 Oudenhoorn, died 16-5-1748 Abbenbroek, daughter of Cornelis Claasz. Block and Jannetje Bastiaans, (2) Reijntje, see above, (3) Leentje, christened 10-5-1665 Geervliet, (4) Harmen, christened 3-11-1666 Geervliet
3616. Arie (Verlaer)
His children were (1) Willem, see above, (2?) Cornelis Ariensz. Verlaer, married Margrietje Willems, out of which marriage (a) Willem, christened 1-11-1676 Nieuw-Beijerland
3618. Arie
3650. Jan
3654. Anthonie
3656.[1] Hendrik Jansz. (Ploeger), married 7-11-1627 Spijkenisse:
3657. Janneke Jacobs Backer, died 5-1654 Spijkenisse
3658. Reijer Egbertsz. van den Ham, from Groningerland, cartwright ('wagenmaker'), married 1600 Spijkenisse:
3659. Fijtge Cornelisdr., born Spijkenisse
3664. Sebastiaan Rokusse (Bijl) (Schipper) [Sebastiaen; Rochus, Rochusz.], born circa 1576, skipper ('schipper'), messenger of court ('gerechtsbode') at Mijnsheerenland 27-10-1607, district councillor at Mijnsheerenland, made up his last will with his wife 7-2-1634 Mijnsheerenland, died after 7-2-1634, married (1) NN, died after 3-7-1638, married (2):
3665. Ariaantje Jacobusdr. [Ariaentje; Jacobse, Jacobsdr.], born circa 1587, died after 1-2-1636 and 7-2-1634
Issue from this marriage, (1) Pieter Bastiaens Bijl, born 30-12-1583 (?) Mijnsheerenland, (2) Rochus, see above, (3) Adriaantje Bastiaens Bijl, (4) Jaepge Bastiaens Bijl, (5) Trintge Bastiaens Bijl, (6) Annigje Bastiaens Bijl
3666. Cornelis Cornelis Timmerman [Cornelisz.], married:
3667. Adriaantje Willems [Adriaentje]
3668. Arie (Droogendijk) ?
3680. Klaas Cornelisse den Tuinder [Claes; Cornelis; Den Thuynder], born circa 1606 Strijen, died prior to 13-8-1658, married:
3681. Barbara Jans
3682.? Jan (van Vliet)
3688. Dirk Jacobse Kleinendorst [Dierick; Jacobs; Cleijnendorst], resided 1649 Sint-Anthoniepolder, bought 1654 a house in Strijen, died between 1654 and 1666
3690.? Jacob Ariese (Noteboom) [Ariens][12], born circa 1607 Maasdam, farmer ('bouwman'), resided 1629 Maasdam, heir of his sister Pietertje Ariens, witness 1641 and court messenger ('gerechtsbode'), died 1653, married 27-5-1629 Maasdam:
3691.? Ariaantje Dirkse [Ariaentgen; Dircxen], born 1612, christened 26-2-1612 Maasdam, Dutch Reformed, 'kraemster', inherited house and furniture after the death of her husband, had to sustain the children 1654, died 17-5-1688 Maasdam
3692. Maarten (Pons)
3694. Bastiaan (van Es)
3696. Jacob Huige 't Greijn [Huygen, Huijgen; Greijn], resided 1631 Nieuw-Cromstrijen, made up a mutual last will 1631 with his wife, died between 1631 and 1636, married:
3697. Marigje Tonisse [Marigien, Maerttge; Thonisdr., Thonis], widow of Ijeman Jacobs, whose two children would be raised by Greijn, resided 1636 Cromstrijen, died after 1631
3704. Ool
3706. Gijsbert (Bos)
3708. Arie Teunisse Sweere [Thonisse; Sweeren], flourished 1645, resided Cromstrijen
3710. Jacob (den Dulle)
3712. Teunis (Janse) van Pelt [Thonis; Jansz.], born circa 1610, married:
3713. Hendrikje Jans (Hoogwerff)?
3714. Bastiaan van Driel [Bastiaen]
3716. Arijen Pons
3718. Hendrik (Geljanis)
3720. Pieter (Zuiddijk)
3722. Jacob
3720. Peter Cornelissen, married:
3721. Mayken Alberts
3728. Andries Thonisz. Paay, born Oud-Beijerland, married 28-4-1630 Oud-Beijerland:
3729. Janneken Willems
3732. Pieter Ariens Eland, christened 24-4-1622 Spijkenisse, died Spijkenisse, married (1) Spijkenisse, Willemtje Jans, died 30-6-1685 Spijkenisse, married (2):
3733. Aaltje Cornelis, christened Spijkenisse
3736. Claas Hendricksz., married:
3737. Lijsbeth Aarde
3738. Joris Jansz., married 14-12-1651 Puttershoek:
3739. Ingen Aerds, christened 10-2-1630 Puttershoek
3742. Wouter Ariensz., married:
3743. Lijsbeth Hendricks
3760. Anthonis Aartse (van Bochove) (Cappeteyn) [Tonis; Arentsse, Aartsz.], born circa 1600, presumably Zinkweg, Oud-Beijerland, messenger of court ('gerechtsbode') of Nieuw-Beijerland from circa 1636 to 1658, presumably skipper, judging from his surname Cappeteyn, resided 1630 Zinkweg, Oud-Beijerland, was 26-2-1642 indebted because of the purchase of a house in the Voorstraat, Nieuw-Beijerland, died prior to 17-6-1663, married 15-9-1630 Oud-Beijerland, bachelor and spinster:
3761. Heiltje Pieterse [Heyltje, Heyltgen; Pietersdr.], born Puttershoek, resided 1630 Puttershoek, died after 6-11-1685
Issue from this marriage: 8 children
3762. Arie
3768. Jan Pieters van Biesbroeck, christened 18-6-1620, died 11-10-1704 Puttershoek, married:
3769. Lijsbeth Leenders de Raedt, born Puttershoek
3784. Marinus Geelhoed, born Colijnsplaat, died 28-3-1644 Colijnsplaat, buried 3-4-1644 Colijnsplaat, married:
3785. Leentje Pieters Cluyfhooft, died 19-3-1641 Colijnsplaat, buried 22-3-1641 Colijnsplaat
3786. Kempe Janse Hecte, married:
3787. Jannetje Cornelisse
3788. Adriaen Marinusz. Cole [Coole], born Zierikzee, married 28-9-1642 Zierikzee:
3789. Maycke Jansdr. Goeman, born Colijnsplaat
3790. Leendert Houtsager, born Colijnsplaat, died Colijnsplaat, married Colijnsplaat:
3791. Marij van Merenburgh, christened 19-1-1631 Colijnsplaat, died Colijnsplaat
3792. Machiel Jansen Mol, married:
3793. Leuntie Ballens
3794. Pieter Cousijn, married:
3795. Anneke Willems
3796. Rokus Arents Steijn, married:
3797. Adriaenken Geerts Nieuwstee
3798. Aelbrecht Lambrechts Eggebeen, married:
3799. Emmerentia Marinus
3804. Adriaen van Rossum, married:
3805. Sara Meertens
3806. Cornelis Anthonisz. (Moerlant), christened 11-2-1624 Stavenisse, married:
3807. Rachel Cornelisdr. Quist, christened 3-1-1627 Stavenisse
3808. Cornelis Cornelisz. (Bravenboer), christened 12-1-1620 Barendrecht, married:
3809. Pleuntje Doenen (van Tol), born Piershil, buried 22-3-1702 Oud-Beijerland
3812. Jan Cornelis Vink alias Jonge Coyman, married 11-11-1652 Hendrik-Ido-Ambacht:
3813. Neeltje van der Leer
3814. Cornelis Herberts (de Jonge) van der Sluys, christened 15-1-1634 Hendrik-Ido-Ambacht, married:
3815. Maertje Ariens Pau(w) [Maria], christened 3-11-1641 Hendrik-Ido-Ambacht
3816. Wouter Huygen van der Waal [Op te Wael], married:
3817. Karsje Kerstensdr.
3818. Aert Arien Kalis, christened 13-5-1638 Ridderkerk, married:
3819. Leentje Teuwen Velthoen, christened 26-12-1638 Ridderkerk, died Ridderkerk
3820. Goossen Ariensen alias Bom, born Ridderkerk, christened 8-4-1618 Ridderkerk, married:
3821. Maijken Blaesen (Blijgeest), born Ridderkerk, christened 13-7-1614 Ridderkerk, died Ridderkerk
3822. Jacob Leenderts Slickerveer, born Ridderkerk, married:
3823. Annighjen Hendricse Craenendonck, born Ridderkerk, died Ridderkerk
3826. Huijbrecht Cornelis Achterkerk, christened 22-11-1609 Ridderkerk, married 10-12-1634 Ridderkerk:
3827. Anneke Maertens [Annighjen], born Lekkerkerk
3828. Jan Jacobs Boer, born Puttershoek, married:
3829. Maergie Claas (Gouman), born Puttershoek
3830. Arijen Dirx Oosteynt [Oostende], born Heinenoord, married:
3831. Aryaentie Pancras, born Mijnsheerenland
3832. Cornelis Foppe de Jonge, christened 28-1-1590 Ridderkerk, married 3/28-10-1624 Ridderkerk:
3833. Cleysje Pieters, born Krimpen
3836. Lodewijck Gerritse (Dancker), christened 17-10-1593 Ridderkerk, married 11-4-1627 Ridderkerk:
3837. Sijchje Cornelis Velthoen, christened 10-2-1608 Ridderkerk
3838. Arie Ariens (de Oude) van der Steen, born Willemstad, married:
3839. Neeltje Pieters, born Charlois
3904. Klaas (Corper)
3906. Hendrik
3936.? Jan Cornelisse Duimelaar [Cornelisz.; Dumelaer], flourished 1631 Cromstrijen
4016.? Arie Cornelisse Lopiker [Adriaen, Arien; Cornelis; Loopicker, Lopicker], carpenter ('timmerman'), delivered 1610 Mijnsheerenland 'dekriet' (credit?), mentioned 1644 Mijnsheerenland, died between 1652 and 1671, married:
4017.? Marieke Leendertse [Maricke; Leenders], died after 20-4-1629
4018. Jan Cornelisse (de Ruyter) [Cornelissen], resided Heerjansdam, married 1625 Heinenoord, bachelor and spinster:
4019. Machteld Bastiaanse [Machtel; Bastiaens], resided Heinenoord, Blaeck
4064. Arie
4066. Krijn
4080. Jacob (Mol)
4082. Jan
4084. Herman (Oprel)[13]
4086. Cornelis
4088. Frans Franse van Bodegom [Frans, Franssen, Fransz.; Van Bodegem], born presumably prior to 1579, presumably farmer, possessed land in Spijkenisse and mentioned as such from 1604 onwards, 1617 mentioned as land lord in Spijkenisse and Simonshaven, 1-10-1618 mentioned in the vuijtslach of Putten, was 1622 accused by his brother Pieter and his sister Anna, who claimed that they were the only legitimate heirs of Frans van Bodegom, who had possessed land in the Hongerlant under Hekelingen, and that their 'natural brother' Frans, while they were still under age, had occupied this land without right or title, claiming this land now back, after which Frans defends himself and is justified by the court, appeared ('verleed') 16-5-1630 under procuration of Pieter van Bodegom, who pledged him with a loan in the Ambagt of Brabant, under Putten, demanded 24-9-1608 18 pounds from Pieter Jansz., instituted 2-6-1617 an act of 'naasting' against Willem Willems. Holy concerning 4 'gemeten' land, located at the Moelenweg, Spijkenisse, was 20-10-1627 indebted for 7,000 pounds to Anna van Bodegom due to the purchase of her wooninge en de landen in Putten, according to the contract established 14-9-1627 at the mansion in Rhoon, bought 13-6-1629 6 'gemeten' and 9 'roeden' 'teelland' in the Nieuwe Uytslag of Putten for 1200 pounds, bought 5-2-1631 13 'gemeten' 61 'roeden' 'teelland' in the Nieuwe Uytslag of Putten for 1500 pounds, was 16-5-1630 pledged with a Houkmeetgen in the Ambagt of Brabant on the order of Pieter van Bodegom, did 27-5-1637 a division of estate with Borgert Beyens at Hekelingen, did 24-10-1637 a division of estate with his son Cornelis regarding his maternal share, signed 27-6-1637 an act at Delft with a clear hand-writing, died 1638 Hekelingen [prior to 9-1-1639], 29-10-1639 his children sold a farmstead ('hofstede') with more than 25 'gemeten' 'teel- en weiland' to Jeronimus Jacobs, married:
4089. Grietje Jorisse [Jorisdr., Joris], died 1633 Hekelingen
Issue from this marriage, (1) Cornelis, see above, (2) Jan, died between 1642 and 1649, married Neeltje Jacobs, she remarried 8 (?)-5-1649 Hekelingen, Cornelis Jans van Bleyenburch, (3) Jop, died prior to 18-4-1650, married Neeltje Cornelisdr., she remarried 6-4-1654 Hekelingen, Jan Dirckx Block, alderman of Hekelingen 1660, (4) Aryaantje Bodegom, died prior to 1664, married (a) prior to 1637, Borgert Beyens Hasemoer, alderman of Hekelingen, son of Beyen Jans Hasemoer and Aeltje Cornelisdr., married (b) 25-2-1657 Hekelingen, Pieter Gerritse Smit, widower of Angenietje Jans, who remarried circa 1664 Hekelingen, Maertje Jans, (5) Agneta [Angenietje], died prior to 1663, married (a) 19-2-1640 Hekelingen, Cornelis Pietersen op den Dijck, from Mijnsherenland, betrothed (b) 31-5-1654 Hekelingen, Ingel Janse Backer, from Hekelingen, who betrothed (2) 7-7-1663 Hekelingen, Jannetje Leenderts van Geervliet
4090. Frans Bouwen
4092. Jacob Pieterse (Romeijn) [Pieters, Pietersz.], christened 15-9- 1613 Spijkenisse, witness Maritgen Jacobs alias Boers, deacon at Spijkenisse 1647-1659, died 1665 Spijkenisse, betrothed 25-5-1636 Spijkenisse:
4093. Lijntje Gabrielse [Lijntgen; Gabriels], born Spijkenisse, died after 10-4-1687
Issue from this marriage, (1) Grietje, christened Spijkenisse, (2) Gabriel, christened Spijkenisse, (3) Lijsbeth, christened Spijkenisse, (4) Gerrit, see above